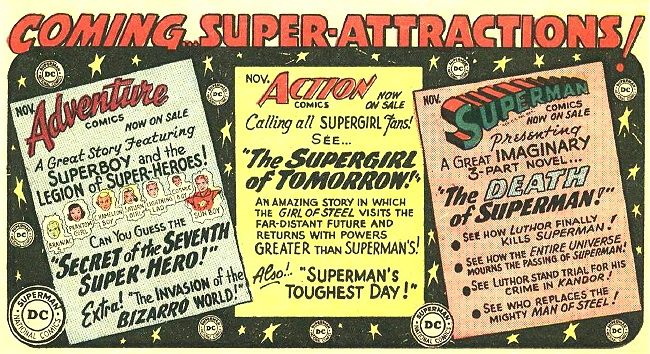 What an exciting first two weeks for our blog! I want to thank everyone for the kind words. If you're just finding us, stop and read. If you're reading us, comment. If you're commenting, don't forget to follow us.
We've got a lot of exciting content on the horizon for you:
- Guest Reviewers! Friend of the blog, Tom Pescatore will be taking an in depth look at the surreal Superman Beyond 3D. Meanwhile, friend to no man, Vitaly Taratut will lend his unique insight to Superman: Red Son.
- We eagerly anticipate the first pieces from Michael Torre (aka Lexrules), who I'm sure will bring all of his characteristic wit and love for the Big Red S to our fine blog.
- Our own John Craddock (aka Kurosawa) will be reviewing the Golden Age classic "When Titans Clash!" from Superman 17, and I suspect he'll have a word or two concerning that new Superman movie that's been causing such a fuss.
- I'm going to start off with an essay about how I came to be a Superman convert, and why the character means more than merchandise. So I don't get
too
serious, I'll be reviewing the Silver Age classic Superman 141, and explaining why I think it's one of the greatest comics of all time. I'll also be looking at two issues from Jack Kirby's run on Jimmy Olsen which stand as a truly great "lost" Superman story.
Until then, remember:
We're all in this together, and we're all we've got.